Six Ways To Improve Your Credit Score
Something to consider if you're planning on buying a home or taking out a loan for your car: your credit score. This ranking of the risk you represent to lenders is one of the main tools they use to decide whether to give you credit. It can even affect your auto insurance premiums. So don't wait until it's too late – here are five easy ways to raise your credit score now.
1. Pay your bills on time.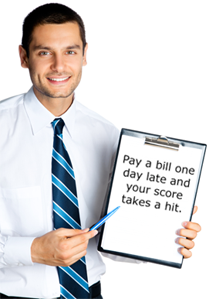 Even if you pay a bill one day late, your credit score suffers. Late payments fall into several categories ranging from less than 30 days to 120 days plus. If you're a date late, you're already in the first category, and your score takes a hit. The good news is, that the longer your history is blemish-free, the more likely it is that your credit score will improve. But improvement might be slow – a single credit transaction affects your score for six years. "If you are having trouble paying off your balance, at least try and make the minimum payment," says Scott Sanders of Bridgewater Bank, the AMA subsidiary that manages the CAA MasterCard. Then talk to the credit card company about your options or seek credit counselling.
2. Don't be afraid to use your credit card.
This may go against conventional wisdom but it's good to exercise your plastic. Stashing credit cards away in a drawer and not using them might actually lower your credit score, because you won't build enough credit-management history for the credits or know whether you're a risk.
3. Check your credit report regularly.
A credit report is a snapshot of your credit history, at a particular point in time, you can obtain it free from Equifax (equifax.ca) or TransUnion (transunion.ca), Canada's main credit-reporting agency. According to the U.S.-based Policy and Economic Research Council, about 19% of credit reports contain errors, so check yours at least once a year. Report any mistakes to the credit bureau and the creditor in question to resolve any errors.
4. Keep your credit utilization rates low.
One-third of your credit score relates to your total amount of debt. So keep your utilization low – 30 to 50 percent of your total available credit is ideal, according to the Financial Consumer Agency of Canada. If you draw on a larger percentage, your credit score could suffer, because creditors might conclude that you rely too heavily on debt – even if you pay off your balances on time. "And in the mind of a creditor, a low balance shows that you're fiscally responsible," says Sanders.
5. Have more than one credit card.
You might pat yourself on the back for having only one credit card, but that isn't the smartest move. You should have at least two: primary and one backup – for security and to build positive credit history. But don't go applying for credit cards willy-nilly. If you have access to heaps of credit, there's an increased risk of getting yourself in trouble.
6. Stay tight with your bank.
Constant communication with your bank makes good financial sense. Why? A credit score is a computer-generated number that doesn't necessarily reflect behavioural trends. So if, say,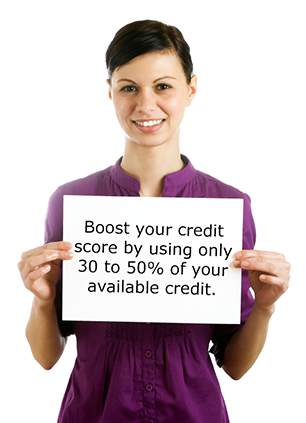 you've worked diligently over the past year to improve your financial habits, your score might not reflect that. But a flesh-and-blood banker might recognize and appreciate the changes. In other words, while a computer might turn you down for a mortgage based on your credit score – a human being who knows you and trusts your intentions might not.
Get In Touch
Feel free to get in touch with us by using the form below.
Why Work With Us?
Guarantee your debt is reduced or you pay no fee.
Be debt free in 1 to 5 Years.
Homes, Vehicles are fully protected.
Collection agency calls will stop.
Wage garnish will stop.
Protect client from legal action.
Information on re-establishing your credit rating.